Maryland Office of Tourism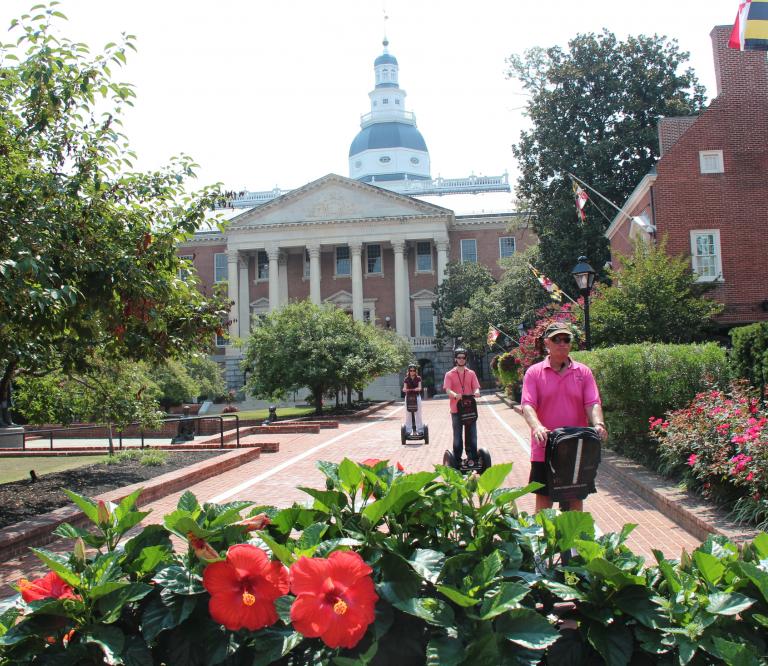 Visit Annapolis
Maryland offers a wide variety of travel experiences all within easy driving distances. With mountains in the west, the Chesapeake Bay and the Atlantic Ocean to the east, Maryland is a great group destination.
Dining choices abound and you can choose a special place for your next tour. Consider one of our scenic byways or have your group try one of our famous Maryland crab houses. Take your group on a float trip, visit one of our many museums, ride on a steam train or thrill them with a cruise of the Chesapeake Bay.
Stay in our cities, towns, or perhaps include a visit to one of our neighboring destinations. Washington, DC and Gettysburg, PA are just over the border, and Maryland can be a very easy "hub" for these attractive "spoke" destinations. If you are developing tours for seniors, students, or individual travelers, Maryland can help fill the bill.
Group Travel Services:
Maryland offers a world of travel opportunities and there are a variety of experiences for groups.  There are a number of options, from the mountains to the bay to the ocean; there is something for everyone.  Our close proximity to Washington, DC, provides ample opportunity for your senior, student or performing groups. See our Group Travel Itineraries and Services.
If you should need help with additional trip planning, creating itineraries or distributing leads, Rich Gilbert will be happy to offer assistance. We hope you consider Maryland's wonderful destinations, attractions and accommodations when putting together future tour programs. We would love to host your groups!
More info...
Group Travel

Travel Trade Sales Manager
Travel Trade Sales Manager
Rich's main responsibilities are selling for the travel trade program.  This includes working with motorcoach and tour operators, reunion planners, meeting planners and group travel leaders to bring their tour, convention or reunion to Maryland.  Working with Capital Region USA (DC, MD & VA), Rich also works with promoting the region to the international tour operators.