Tourism Works For Maryland
Join us in creating a better life for all Marylanders through strong, sustainable local communities that welcome a diversity of explorers.
We inspire travel that drives community enhancement and economic development. Through innovation and partnerships, we share the stories of Maryland's people and places, deliver world-class experiences, strengthen the industry, work to ensure all travelers feel welcome and preserve Maryland's way of life and its natural places.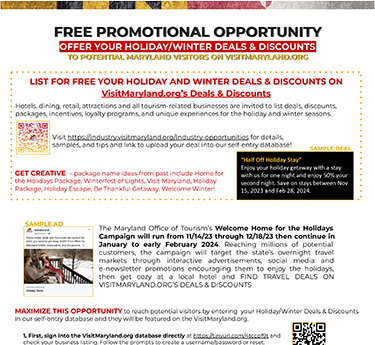 Welcome Home for the Holidays Campaign - FREE Opportunity
LIST YOUR DEALS & DISCOUNTS AND EVENTS
Tourism-related businesses can offer discounts, deals, incentives, and specials for the holiday and winter season.


Maryland Tourism's Welcome Home for the Holidays advertising campaign will drive potential visitors to the Deals & Discounts Page on VisitMaryland.org.  To ensure your business, event and/or deal is accessible to these travel decision-makers, claim or update your listings through Visit Maryland's self- entry portal database.  Sign in directly here and follow the prompts to create username/password or reset it.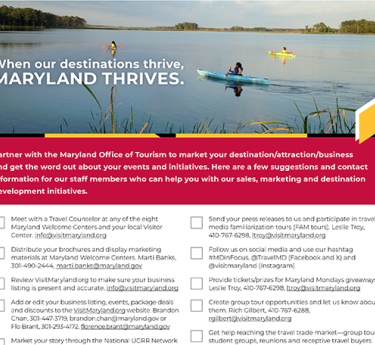 Welcome More Customers
There are many ways to partner with the Maryland Office of Tourism in order to market your destination/attraction and to get the word out about your events and initiatives. Here are a few suggestions and contact information for our staff members who can help you.
By The Numbers
Tourism supports jobs for Marylanders and generates state and local taxes. Each household would need to pay an additional $923 in taxes to replace the tax revenue generated.
$16.4 Billion
Total Spending
$2.1 Billion
State & Local Tax Revenue